Posted in Press Room, News
Published: 30/09/2015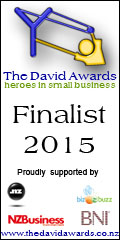 Small business heroes show courage and ingenuity
Two Rotorua businesses have been named as national finalists in The David Awards for 2015.
Ros Morshead, of Morshead Law is a finalist in the 'Most Outstanding Lifestyle Business' for her work in epitomising the ability to use technology to integrate business and lifestyle.
Dr Julia Charity who founded Look After Me – an online market place for accommodation, is a finalist for 'The Solo Meo Award' which recognises a business owner who runs their business single-handedly.
Look After Me is also a finalist for the 'Most Outstanding Triumph over Adversity' in recognition for success in spite of challenges beyond the usual.