Not A Real Job Podcast
Posted in Press Room
Published: 12/04/2018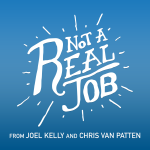 "Not a Real Job is a podcast about digital marketing, social media, website design, growth hacking, and more. It's hosted by Joel Kelly and Chris Van Patten, long-time friends and (self-proclaimed) digital pros.
Sometimes the show is serious, usually it's hilarious, and it's always informative." - taken from the Not A Real Job website
This week we welcome on Dr. Julia Charity! She stops by to talk to us about career changes, the many hats of an entrepreneur, and the challenges of working in the tourism industry.
You can listen to the interview here.
[Originally broadcast on Not A Real Job on 12th April 2018.]