New Zealand's Homestay Network takes People's Choice and Runner up at Rotorua's Entrepreneurial event
Posted in Press Room, News
Published: 18/08/2014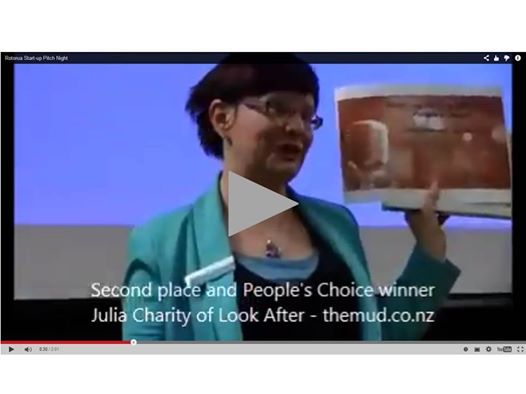 Second place and the People's Choice award for the inaugural Rotorua Start-Up Pitch Night event went to Dr. Julia Charity, who founded 'Look After Me - New Zealand's Homestay Network.
"Rotorua really needs events like this. It helps create and support an entrepreneurial community," she said.
"Through determination and grit I have created something from nothing. The world has changed and New Zealand needs its own Homestay Network. I'm doing this for the people of New Zealand and it's so wonderful to receive this award.
Winning the People's Choice provides awhi for me along my entrepreneurial journey."
Tarawera Ultramarathon director Paul Charteris won first prize.

Charteris – who dedicated the award to his mum - was awarded the prize ahead of other contenders at the Rotorua X Trust organised event aimed at giving entrepreneurs an opportunity to test themselves in pitching in a competitive environment.
The event was held on 15 August with judging panel made up of Mayor Steve Chadwick; two candidates competing for the Rotorua seat in the election – Todd McClay and Tamati Coffey; the head of investor growth firm Snowball Effect, Josh Daniell; and Enterprise Angel Investor, Ryan Holmes.

Receiving the award, Charteris gave a nod of thanks to the political rivals in the panel, acknowledging how busy they were at this time.

One of the prizes of utilising free office space was particularly welcome as he was currently running the business from his dining room table.

"It truly has been a passion and it is never easy starting a business," Charteris told the audience.
Head judge Josh Daniell congratulated the contenders on making their pitches in just five minutes, noting it was a difficult task, particularly as one of the terms of the contest excluded asking the judges for money.
"I have had the privilege in the last six months of hearing about 250 companies throughout New Zealand sell their story and it's really cool to hear some innovation and great stuff coming out of this region."

Organiser Darren McGarvie, chair of the Rotorua X Charitable Trust, described the response to the events as overwhelming.

"I cannot believe how much demand there has been to pitch an idea or a business opportunity, it's just fantastic."

Rotorua-X's vision is to create a vibrant business community (in Rotorua) and, through organising an event like this we are hoping to encourage an environment in which people feel comfortable in which to pitch or launch new businesses or charities."

The event was attended by about 60 people and was held at the Waiariki National Centre of Excellence for the Forest and Wood Industry on Friday evening (15 August).

Mayor Steve Chadwick described the event as "an inspiring evening". She told those competing that if they didn't make it to the final awards, there was a place for them in the Rotorua community. She underlined her council's bid for Rotorua to become the spa wellness centre of the country.
"The product that is putting us on fire is these major events around running, mountain biking and your events."