June Newsletter 2017 - Let Look After Me Look After You
Posted in Newsletters
Published: 30/06/2017

LET 'LOOK AFTER ME', LOOK AFTER YOU

Travelling?

Getting a bit sick of the same ol', same ol'?

Would you like to try something a bit 'different'?

Have you heard of 'Homestay for Grown-ups'?

Personal yet private

Great rooms: You'll have your own beautifully appointed room and usually your own guest bathroom.
Convenient extras: like parking, laundry and wi-fi you don't have to pay extra for.
Meals: Most hosts provide breakfast and options for other meals by arrangement.
Fair Prices: All of our Look After Me hosts have been vetted to make sure prices are fair.
Service and Knowledge: They offer a personalised service but make sure you have the peace and privacy you need.

So if you are travelling for business, re-locating to start a new job or going to a concert or event, let Look After Me, look after you.

We've got hundreds of options for self-contained units, Bed and Breakfasts and Homestay accommodation, all over New Zealand.

But don't take our word for it - hear from some of our guests to find out why they are using Look After Me. Check out their video here.
We offer accommodation
all over New Zealand
We specialise in hosted accommodation - guest rooms, spare rooms and self-contained units. Just type in your location or interest in our search box and browse our properties.
Considering becoming a host?
Do you have a spare room, guest wing, sleepout or self-contained unit?

Do you take pride in your home and are ready to share what you have?

If this sounds like you, then you'd make a great Look After Me Host.
Company News

We've moved to Dunedin
Look After Me has relocated their headquarters from Rotorua to Dunedin. Our staff are still located in Christchurch, Hamilton and Rotorua.
On National Radio
The average age of an Entrepreneur founding a Start up is 26, but recent research suggests some of our most successful entrepreneurs are older than that.
National Radio hosted Look After Me Founder Julia Charity, Jude Benedict, (the founder of Kiwi Klips) and Paul Spence, (Domain Registers) to talk about being an Entrepreneur in New Zealand.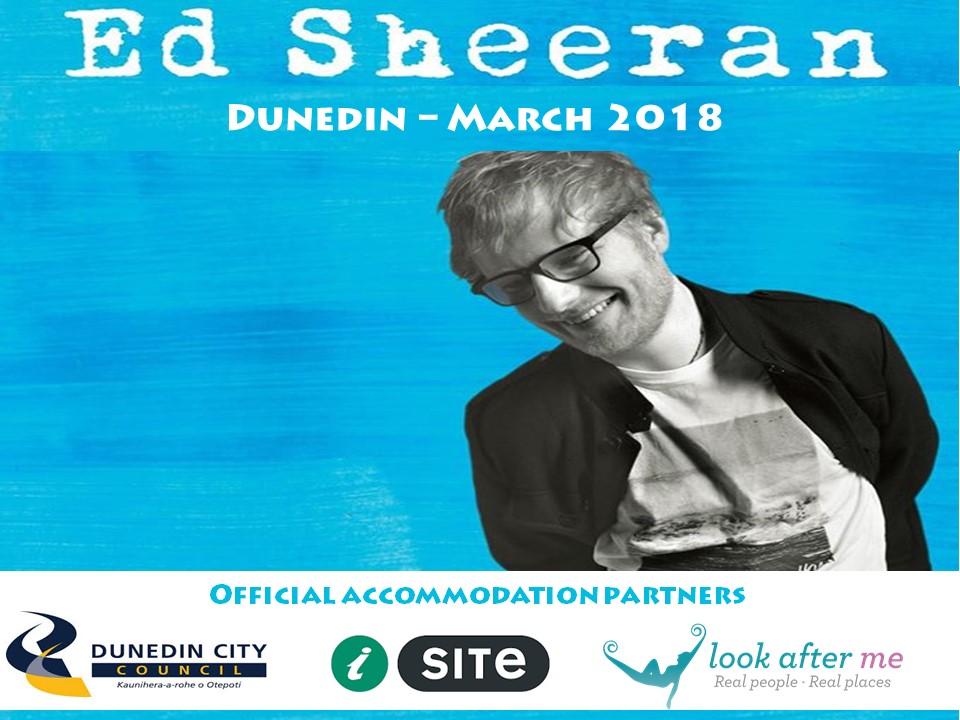 Look After Me has partnered with Dunedin CIty Council to provide accommodation for ticket holders of the Ed Sheeran concerts in March, 2018.
120,000 tickets have been sold for 3 concerts held over Easter weekend in Dunedin.
If you know anyone going to the concerts we are taking details and matching people with suitable hosts in Dunedin.
Host profile - Miriam Rutherford, Designer, Founder & Managing Director, Safe T Sleep International


Each of our Look After Me Hosts has their own story. This time we feature Miriam, one of our first hosts in Auckland. As well as hosting at the Conifer Grove Oasis she developed the world's safest, baby swaddling wrap.

When we caught up with Miriam she said as a mother herself, with a nursing background, she wanted safety, comfort and peace of mind for her own children.

She founded the company 26 years ago and the Safe T Sleep Sleepwrap is the only clinically proven baby wrap, as tested independently by hospitals.

Miriam says it has even wrapped America's Cup babies!

The Safe T Sleep Sleepwrap allows natural flexible limb and hip movement for a safer, more comfortable sleep for babies newborn - two years plus. Other products include the MULTIwedge and the little Safe T Sleep HEADwedge which ensures a safe baby with a lovely shaped head.

If you are a grandmother, aunty or new Mum - you'll find Miriam's Sate T Sleep products will give you peace of mind for the new 'love' of your life. They are available at Baby City, Baby Factory, Sleepstore or on-line at safetsleep.com.

Thanks for sharing your story with us Miriam!
Who are we?

Look After Me is a home-grown kiwi company, managed by kiwis, who like to show-case their own brand of hospitality. We specialise in clean, safe, affordable accommodation, typically in self-contained units, Homestays and B&Bs.

We have emailed you these special offers because we like keeping in touch with those who might be interested in travelling or those involved in Hospitality.

Like any NZ-owned business, we have humble beginnings but are now NZ's largest and fastest growing Accommodation Network. We'd really appreciate you forwarding this email to others who might be interested.
Julia and the 'Look After Me' Team,
NZ's Accommodation Network