Explore Rotorua's Cycle Trail - Te Ara Ahi
Posted in Cycling Holidays
Published: 14/05/2014

Rotorua's Cycle Trail featuring some of the world's most spectacular geothermal activity, friendly locals always up for a chat and excellent road conditions, it's no wonder Rotorua is fast becoming a popular destination for cyclists.
Here is a guide to help cyclists get the most out of Rotorua's famous thermal activity by cycling the Rotorua Cycle Trail.
Rotorua's Cycle Trail - Te Ara Ahi: Thermal by Bike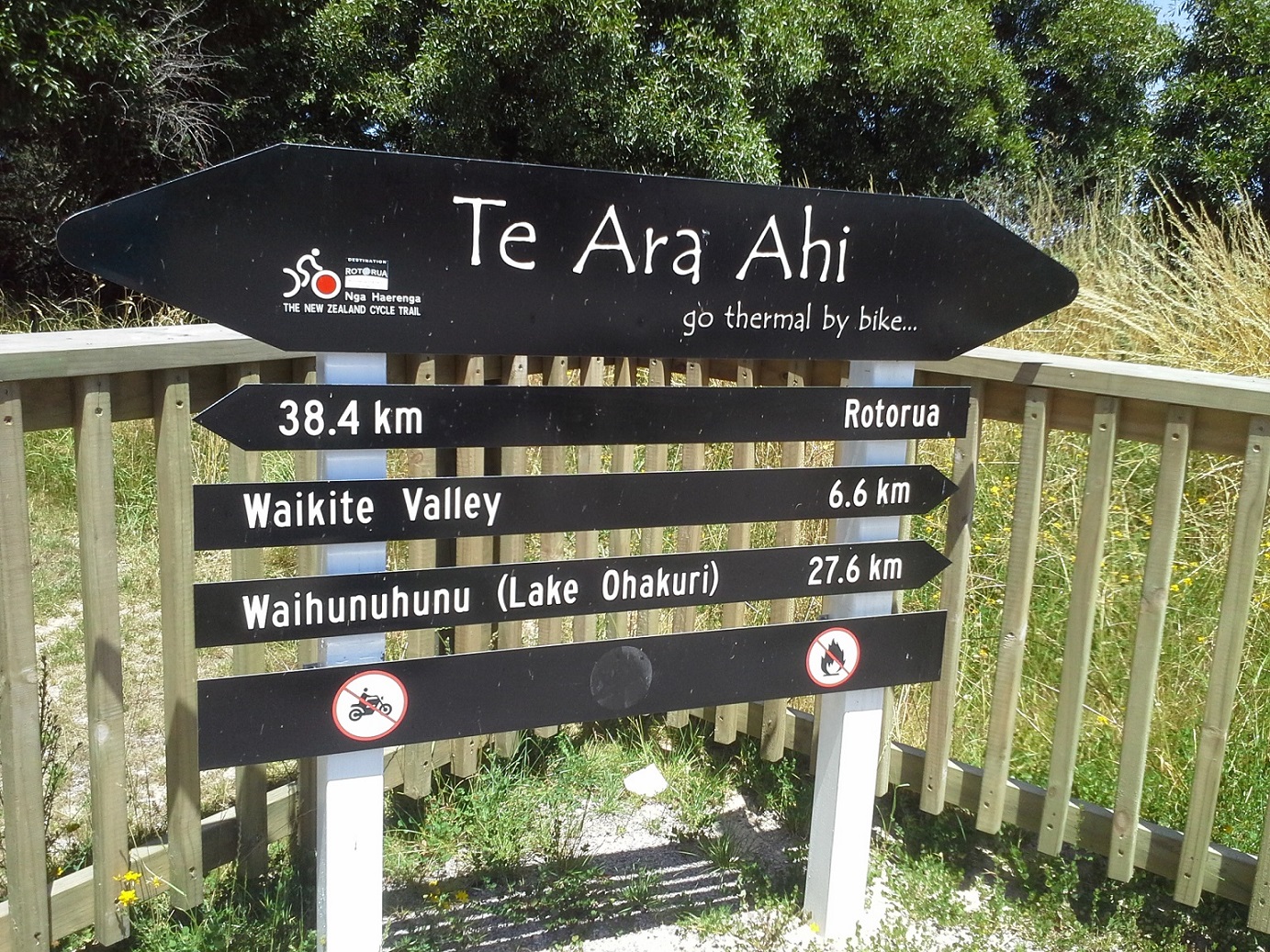 Known as Thermal by Bike, this two-day, 74 km Cycle Trail provides you with the opportunity to see eight of the Rotorua's most spectacular and unique geothermal areas. You can expect to see bubbling mud pools to steaming vents and spectacular geysers that shoot hot water into the air.
While this is a perfect summer activity, there is no reason you won't enjoy it just as much in the wintertime - if you feel a nip in the air you can always jump into a natural hot pool to warm up and soothe tired muscles.
The Rotorua Cycle Trail suits those with an intermediate ability level and starts beneath the giant trellis arches of the Princess Gate in Rotorua's Government Gardens. There is convenient free day and overnight parking in the large gravelled car park on Hinemaru Street or leave your car at our inner city bike-friendly accommodation and ride to the start.
Day one: What to expect on Rotorua's Cycle Trail
Rotorua to Wai-o-Tapu. 40 km Grade 2-3 (4 – 5 hours).
On your first day, cycle past the Rotorua Museum (the most photographed building in the southern hemisphere) and follow the black and white trail markers which weave through the Sulphur Bay reserve. Pass under the State Highway at Puarenga Stream and about 6 km out of town you will cycle past the stunning Whakareawarewa forest, also known as the Redwoods. Here, there are over 5,600 hectares of Californian Coast Redwood trees.
The forest region incorporates the Whakarewarewa Thermal Reserve, which is right next to what's known as the 'Living Maori Village'. This thermal reserve has existed for over 700 years and if you are interested in getting off your bike to experience some culture, this might be just the spot.
Immerse yourself in the Maori way of life by first taking in a daily performance. Experience the world renown Haka, and learn about the area's local stories and legends.
If you have time, stop for a Hangi, which needs to be pre-booked. This is an 'earth oven' and refers to the traditional Maori method of cooking, whereby food is is buried in a pit oven and cooked beneath the surface by hot soil and rocks.
Alternatively if you only need morning tea, continue on the Cycle Trail south, past Te Puia, another impressive cultural centre, through the gateway to Hemo Gorge. Take a brief diversion for excellent coffee and cake at the Waipa Carpark – entrance to the 130 km maze of mountain bike tracks. There is also a modern, purpose-built toilet block here.
If you are self-catering, you could also stop off for a bite to eat at any of the roadside tables along the way - there are open grass spaces perfect for enjoying a rest and a snack.
It's a pleasant and easy cycle on a concrete cycle path that runs alongside the highway before turning off onto Highlands Loop Road. Continue to Waimangu Volcanic Valley where the entrance fee is well worth taking the time to explore, or take a boat-trip with plenty of unique ecology, rare botany and steamy volcanic crater lakes on offer. The café is another excellent place to refuel.

Back on the trail, continue another 5 km to one of Rotorua's smallest lakes – Lake Okaro where there is a delightful rest area and a pleasant lake loop walk. From Lake Okaro turn right at the T-intersection which meets SH38. Take the off-road cycle track to Rainbow Mountain (Maungakakaramea). Here you can leave your bike and walk up to the top of Rainbow Mountain (743 m) where you'll be rewarded with panoramic views. There is also a lookout point above a bright milky turquoise lake.

Riding a little further south, cyclists will pass Rotowhero (a small thermal Green lake) and Te Ranga (formerly known as Kerosene Creek) - a naturally occurring heated stream, where cyclists can stop and bathe.
Day-cyclists can then ride the 2 km to Wai-o-Tapu Thermal Wonderland and finish off the day in Wai-O-Tapu Thermal Wonderland. With a name that means 'sacred waters', this spot offers you the perfect chance to visit the famous Champagne Pool springs that are naturally coloured, with steaming mud, volcanic craters and an impressive sinter terrace formation.
For guests staying on the trail overnight, we recommend meeting your Homestay hosts at the Wai-o-Tapu Tavern (an old kiwi-style pub) at a pre-arranged time (we suggest 2.30 -3.00 pm). We recommend Sandara Gardens - cycle-friendly accommodation for up to 5 guests. Here you'll enjoy an engaging welcome by Marian and John who will transport you and your bike to their nearby home where you can delight in their 4 acres of park-like gardens.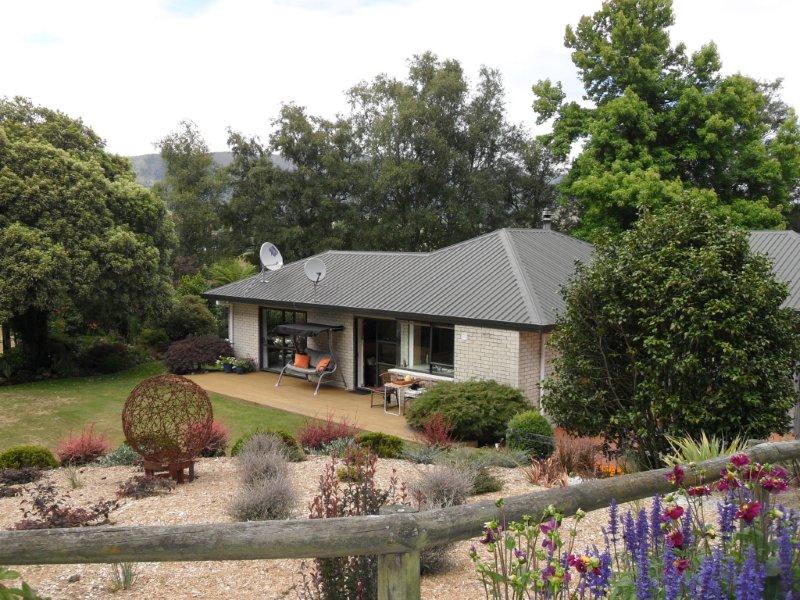 After settling in, John and Marion offer pick ups and drop-offs to the Waikite Valley Thermal Pools - just a few kilometres away. Your accommodation package includes breakfast and home-cooked evening meals can be made by special arrangement. Sandara Gardens is what the 'Look After Me' Homestay Network is all about - hospitable people, beautiful accommodation and lasting memories to make your Rotorua Cycle Trail holiday even more enjoyable. Your hosts will provide you with insider knowledge of the region, while also allowing you to rest in the comfort of their own home.
Day two: Rotorua Cycle Trail - the highlights
Wai-o-Tapu to Lake Ohakuri. 27 km Grade 2 (3 – 4 hours).
If you stayed overnight, start today's adventures with a 6 km ride down-hill from Sandara Gardens back to Wai-O-Tapu Thermal Wonderland when at 10.15 a.m, you can see the Lady Knox Geyser erupt to heights of up to 20 metres. This natural phenomenon happens at the same time every day because the eruption is induced with low-foaming soap.
After witnessing this spectacle, we recommend allowing at least two hours to wander around the Valley. There is a substantial café where you can enjoy good coffee before heading back out on the Rotorua Cycle Trail. On the way back to SH5, be sure to stop in at the Wai-o-Tapu mud pool, which is free to visit and New Zealand's largest bubbling mud pool.
Use the underpass opposite the Tavern and follow the Rotorua Cycle Trail markers out towards Waikite Valley. Unless you enjoyed them at the end of Day One, you'll enjoy a lunchtime public or private soak in the thermal pools (known as the 'living waters' of the Te Manaroa Spring - commonly known as the Waikete Hot Pools).
After lunch and a soak, you can then cycle along Te Kopiia road where you'll take in the impressive Paeroa Thermal Bluffs and bike past dense bush before heading to the Te Kopia geothermal field.
After riding mainly downhill 18 km along Te Kopia Road, take care to turn right on to a gravel road that leads down to the beautiful Lake Ohakuri, a man-made lake on the Waikato River. Commonly and deservedly known as 'Paradise', this is the official end of Rotorua's Thermal by Bike Cycle Trail. It is not well signposted at the time of this blog and there is little cellphone coverage at Trail End, so arrangements will need to be made ahead of time. There is a stunning hot-water waterfall where cyclists can enjoy another thermal swim while waiting for their pre-arranged Shuttle (Thermal Land Shuttle, phone 0800 894 287).
Alternatively, arrange for your Homestay Hosts to pick you up and enjoy another night on the trail before catching a shuttle back to town on Day 3.
Here you are left with the choice of heading back to Rotorua, or travelling down to Taupo.
No matter if you decide to do a one-or two-day Rotorua Thermal by Bike adventure make sure you organise bike-friendly homestay accommodation so you will feel comfortable, safe and well looked after during your cycling holiday. We understand that cyclists have a range of budgets and offer accommodation suggestions at the start and mid-points of the trail, from $55 per night.