Ed Sheeran Concerts - Look After Me provides accommodation for Dunedin concerts March 2018
Posted in News
Published: 22/05/2017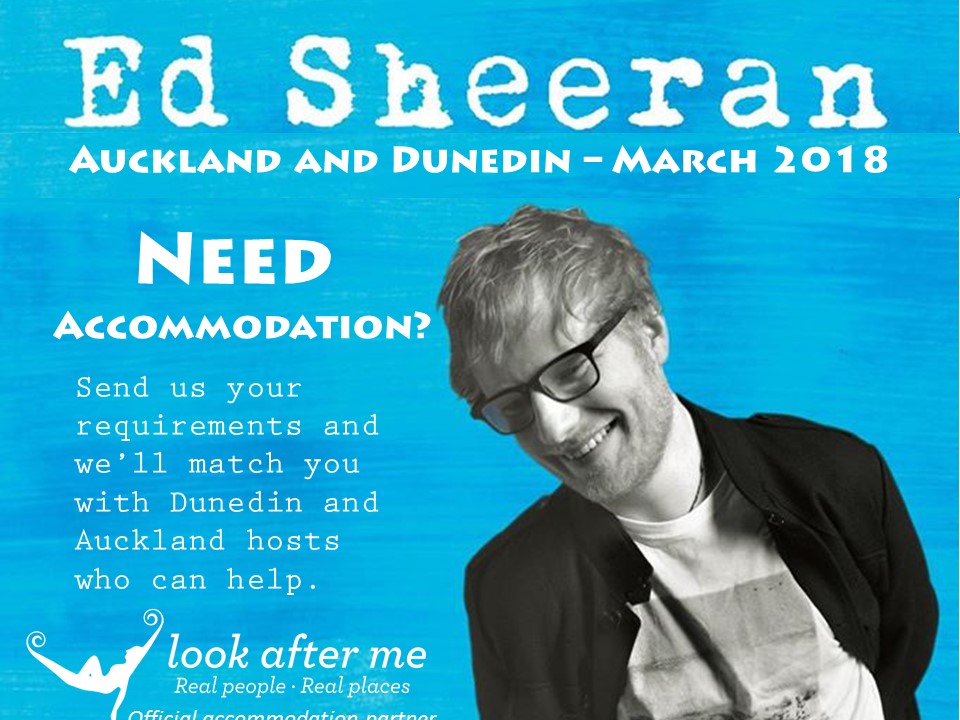 Nationwide accommodation network, Look After Me is helping with fans going to the New Zealand Ed Sheeran concerts.
Director Dr Julia Charity who founded the company just ahead of the 2011 Rugby World Cup said they were delighted to be helping with the three Auckland and two Dunedin shows in March 2018.
'It's a privilege to support Ed. He is a kind and generous man and he'll want to know there is plenty of affordable accommodation for fans coming from out of town.'
Look After Me, a Homestay Network has supported other large events like Womad in New Plymouth, Art Deco in Napier and Ellerslie Flower Show in Christchurch and is also supporting the British and Irish Lions Tour in June 2017.
'We're a pop-up hotel,' says Charity, 'only our rooms are in people's homes, instead of a single building – so it's perfect for big events.'
Dunedin i-site visitor manager Louise van de Vlierd said they welcomed Look After Me as a provider for accommodation for the Ed Sheeran concerts and other events in Dunedin.
'It's good to have a credible provider helping homeowners get ready should commercial accommodation become exhausted.' Louise said that some of Ed's fans, like mature guests or those travelling with children would be likely to welcome a homestay experience.
Children coming to Dunedin will also be well looked after, with some of the Look After Me hosts offering child-minding services. Look After Me has partnered with Belle Babysitting services to ensure concert goers have options for vetted baby sitters.
Local Dunedin resident and new Look After Me host, Tracey Fleet said 'I've got a five bedroom house, so it makes sense to help out. I can even take fans to the concert, as I've already got my tickets'.
Dr Charity recently relocated Look After Me to Dunedin. She is well known in the New Zealand Tourism Industry, particularly for her work with Destination Rotorua and Tourism New Zealand to bring Chinese Reality TV show 'Dad, where are we going?' to film in New Zealand. The shows were watched by 1.3 billion people and helped showcase New Zealand's scenery, people and places.
Charity manages her national homestay network out of Dunedin's shared office space the Petridish. She says she is impressed with the business community here. 'The people who live and work here are humble, hard-working and an amazing group of people. They've really seen the potential for how a concept like ours can help Dunedin in peak times.'
Homeowners can rent out a spare room, guest wing or apartment. Hosts also have the option of donating a percentage of their guest fees to Charity. For the Ed Sheeran concerts Look After Me have nominated the Sophie Elliot Foundation and their 'Loves me not' workshops and books educating youth about positive relationships. For every $ spent on accommodation at Look After Me, the hosts elect to donate 1% to the Sophie Elliot Foundation.
About the concerts, Charity says 'it's definitely about the fans. There'll be a carnival atmosphere right across New Zealand that week. It's a great example of how the sharing economy works. Everyone wins – the fans, the promoters, the hosts, the guests, the cities and the communities they serve. We're very pleased to be part of it.'
If you live in Auckland or Dunedin and have spare accommodation in March next year, register your interest with info@lookafterme.co.nz or visit www.staydunedin.com
Accommodation can be booked on www.staydunedin.com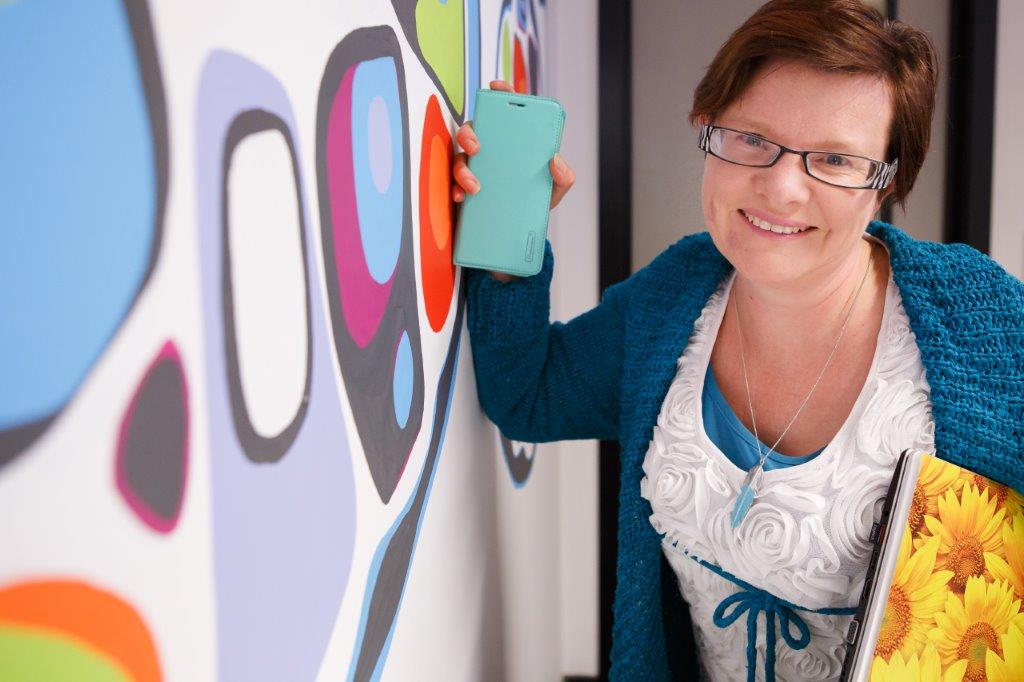 Photo: Dr Julia Charity, fresh arrival to Dunedin, already feeling at home in the Petridish shared office space. Her company, Look After Me has been confirmed as the official accommodation provider for the two Ed Sheeran concerts in Dunedin. Credit: Edith Leigh Photography.