Host contact details
1 Muri Street
Dunedin
Dunedin
Dunedin-Coastal Otago
New Zealand

Visitors Book
"A stay in Aramoana Castle is like living our childhood dream of having our own castle. The ambiance and the location creates the magic which will take you 2 centuries back in time. Thanks to the warm welcoming hosts who made this trip an unforgettable experience. Truely unique accommodation in..."
Julia Charity - Founder's Note
""This is a wonderfully whimsical and magical place. The beach nearby is just gorgeous. Margaret is very kind. Aramoana Castle was a special experience, not just a place to stay while we were in Dunedin."
Diane
""Aramoana Castle is a magical place far away from anywhere. A short walk through the dunes brings you to a beautiful beach with penguin sightings. The view from my second floor room was of The Cliff. So amazingly beautiful is Aramoana, and the restful sanctuary I needed. I arrived late in the..."
Jamie
Aramoana Castle - Dunedin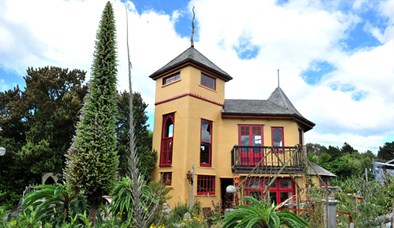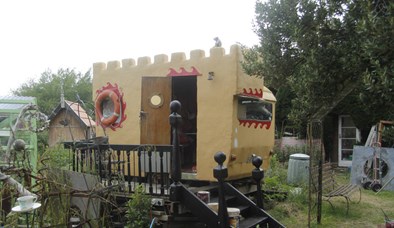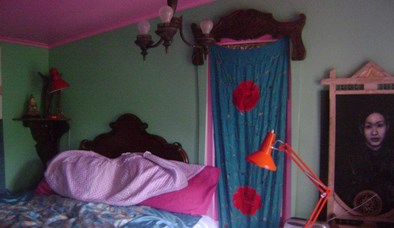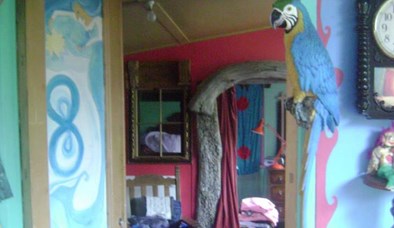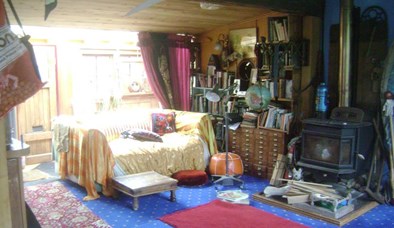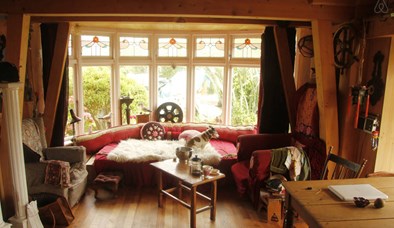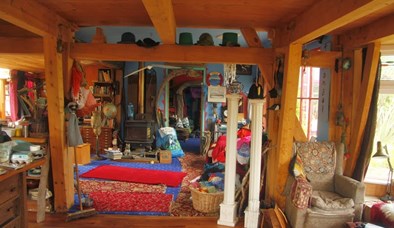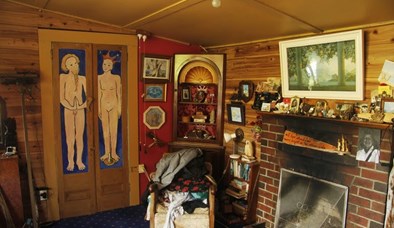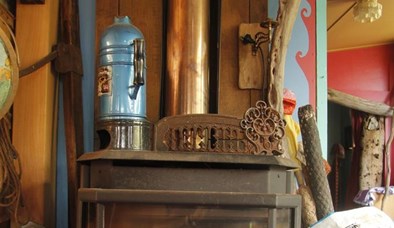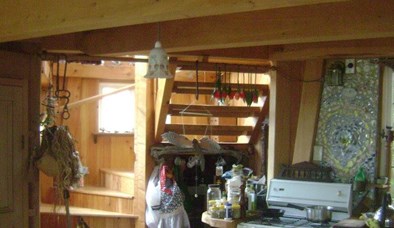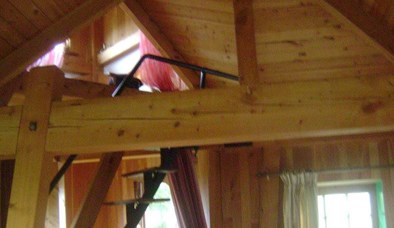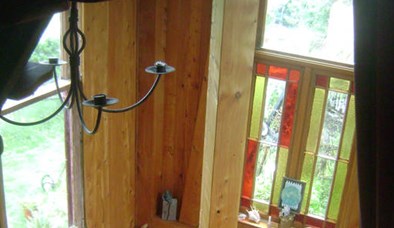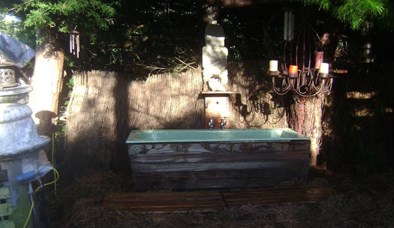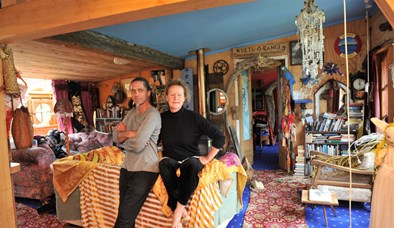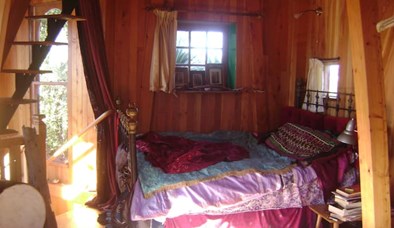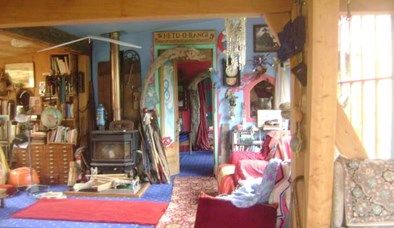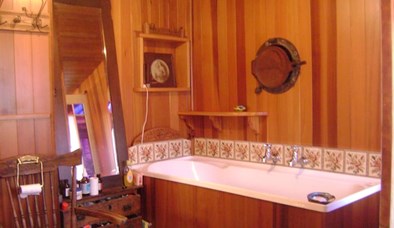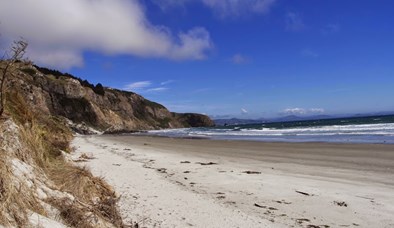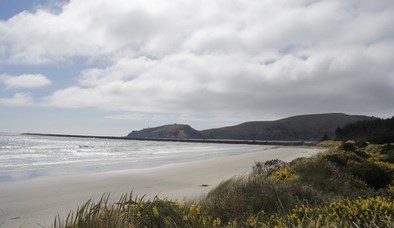 About this place
You're welcome to stay at our unique castle by the sea. We live in Aramoana, at the entrance to Otago Harbour where there are two beautiful beaches. We are just a half hour scenic drive from Dunedin. It is an enriching place to live and a great place for a holiday or time out. We have created a unique home and would like to share it with others. The castle is made from natural timber, big macrocarpa beams, recycled windows and wood, it is full of old world relics and eccentric charm. The house began as a crib and over the last eight years we have transformed it into a castle - your very own fairytale wonderland. In the castle there are two bedrooms with queen beds, (kings can sleep in them too). The Turret bedroom upstairs, is wood lined and golden with a view of the cliff. This room opens onto a balcony. Within this bedroom you can climb another set of stairs to a sanctuary at the top of the tower. Downstairs is the other bedroom, we call it the Captain's cabin. It has a port hole and driftwood arch opening into a bed nook. We also have a Garden Cottage, which has a queen bed and living area, will become available again. In the garden there is the Castle Gate House which is a caravan with a double bed. There is also a hidden Hedge Hut which is very small but endearing with single bed - ideal for youngsters or teenagers wanting their own space. The main bathroom inside is shared and there is also an outdoor shower and bath. The kitchen is shared. Breakfast at the Castle is a continental selection of yoghurt, fruit, cornflakes, home made muesli, wholemeal bread, spreads and porridge for the hearty. Home grown free range eggs on request. We have an assortment of complimentary tea and coffee. Presently two of us live here and we welcome your presence in our home. Wifi is available on request. There are 2 beaches where you can swim, walk and surf, land yachting may be available . There are yellow eyed penguins you may see if timing is right, sea lions and seals on the local beaches. Aramoana is a half hours drive north from Dunedin. Drive through the pretty town of Port Chalmers main street and turn left at the container port onto Macandrew Road. Follow the road around the harbor, it is a lovely scenic route. If traveling by bus, you will get as far as Port Chalmers. We can arrange transport from there if needed. It is also a very easy road to hitch, if you are that way inclined. Port Chalmers is the last place to shop where there is a small supermarket, garage and eating places. Ideal accommodation for guests coming to Dunedin looking for a unique Castle experience! Check out the Mt Cargill Scenic Reserve which makes a great day walk.
Meals
Ask

By arrangement
✔

Help yourself breakfast
✔

Self-catering
✔

Tea and coffee available
Our accommodation best suits
✔

Couples
✔

Family occasions
✔

Grandparents/parents with children
✔

International guests
✔

Single travellers
✔

Solo parent and child
Internet access
✔

Wireless
Kitchen facilities
✔

Studio with basic facilities (e.g. fridge, jug, microwave)
Hobbies and Interests
✔

Astronomy
✔

Beach, Lakes & Rivers
✔

Crafts
✔

Cycling
✔

Dancing
✔

Eco-friendly
✔

Events
✔

Family Friendly
✔

Fishing
✔

Gardening
✔

Meditation
✔

Music
✔

Photography
✔

Reading
✔

Singing
✔

Spirituality
✔

Travel
✔

Walking
✔

Wine & Food
✔

Writing
✔

Yoga
Special Features
✔
Experience one of Dunedin's most original castles.
✔
Enjoy day trips to Mt Cargill Scenic Bush Reserve
✔
11 Km from Port Chalmers.
✔
Enquire about tours at the Royal Albatross centre.
✔
Close to yellow eyed penguins, sea lions and seals on local beaches
✔
Turret bedroom with balcony.
Property Details
Sleeps
9
Bedrooms
5
Bathrooms
1
Child friendly

✔

Smokers

Outside only

Pets ok

x

Pick ups

Ask

Note: charges may apply for pick up
Has pets

✔
Rooms
Location